Remote Sensing or treatment and interpretation of satellite images constitutes a basic tool for undertaking territorial studies and the components that articulate it.
This new technology has several advantages. On the one hand it allows us to analyse big territorial areas simultaneously. On the other hand it provides objective data for the same zone on different dates. This makes it possible to achieve multi-temporary studies.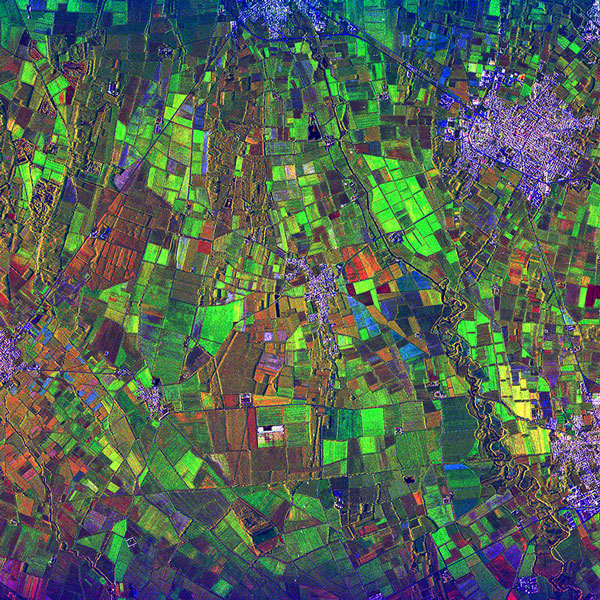 TELESPAZIO IBÉRICA has experience in treating images from practically all the Earth's observation satellites operating at the moment. We have also worked with airborne platforms.
TELESPAZIO IBÉRICA can generate orthorectified products from them within the usual specifications for each one of the scales.
TELESPAZIO IBÉRICA can produce remote sensing using different pixel sizes from 20 cm or less to 1 km. This allows us to offer solutions for practically any problem covering relatively larger or smaller areas.
TELESPAZIO IBÉRICA has strategic alliances with almost all the providers of satellite images. We are distributors in Spain of IRS, IKONOS, SPOT IMAGE, RADARSAT INTERNACIONAL, EURIMAGE, EUROMAP, QUICKBIRD etc. The purpose of these alliances is to guarantee the supply of data, the raw material of teledetection processes.
TELESPAZIO IBÉRICA has had a remote sensing unit since it was founded. Thanks to this we have numerous image files of national territory and numerous other countries.
The applications TELESPAZIO IBÉRICA produces on a regular basis fall under the following headings:
Basic cartography: Altimetry, planimetry etc.
Uses of the ground: Present, historical uses, determination of changes etc.
Agriculture: Agrarian statistics, cadastre etc.
Forest: Fires, acid rain etc.
Determination of impacts: Floods, drought etc.
Geology: Spectral anomalies, structural analysis etc.
Cartography of catastrophes
Hydrocarbon exploration
Economic intelligence